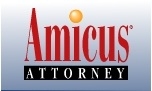 Amicus Attorney Integration
Toronto, Ont. July 20, 2009 - Emergent Technologies announced today that it has created a link between the popular Amicus Attorney data management system and its own Corporate Manager ET. Combining the strengths and features of Amicus and Corporate Manager ET allows legal firms to streamline operations saving thousands of keystrokes and avoiding input duplication when filing for incorporation for their clients. Corporate Manger ET takes client information from Amicus and automatically updates it within the system freeing up personnel who would typically have to re-enter the data. This new link streamlines the entire process, making it more efficient for legal professionals.
"This solution is a perfect fit for the more than 225,000 legal professionals in North America already using Amicus. Corporate Manager ET is the world's fastest and most accurate corporate records management system designed to incorporate, organize and generate a corporate Minute Book in less than 8 minutes." states Darren Cooper, President & CEO, Emergent. "With Corporate Manger ET legal firms don't have to spend money to save money. There is no upfront investment required to implement this solution. It is a pure pay-per-use system that allows lawyers to ability to disperse costs to clients."
The new link between Amicus Attorney and Corporate Manger ET is the latest evolution in Emergent Technologies suite of programs designed to enhance legal practices saving firms time and money.
Amicus products are designed to make law firms more efficient and profitable, while providing legal professionals with greater peace of mind. Amicus Attorney is the world's leading practice management software for lawyers, with more than 225,000 legal professionals worldwide having invested in the product.
To view the Amicus Link and just some of the hundreds of time saving features included in Emergent's Corporate Manager ET, click on one of the links below. From the comfort of your computer and in less than 30 minutes, you'll see firsthand how this productivity tool works, and how your firm can become more productive in these tough economic times.
Dates:
July 28, 2009 @ 11am EST
August 11, 2009 @ 1pm EST
August 25, 2009 @ 11am EST
Once registered you will receive an email confirming your registration with information you need to join the Webinar.
About Emergent Technologies
Emergent is Canada's leading file management software company for legal, financial and accounting professionals practicing Corporate and Estates law.
Emergent's solutions have been available to these professionals for over a decade and are currently used by over 75% of leading Canadian legal professionals. For more information, visit www.emergenttech.ca.